MVP Joins the Fight Against COVID-19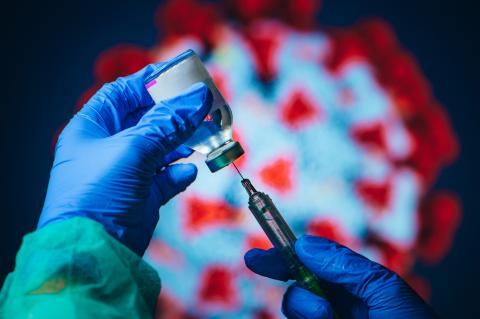 When VA was tapped to be part of Operation Warp Speed's mission to accelerate the development and distribution of COVID-19 vaccines and therapeutics—MVP was ready and able to help.
From getting the word out to Veterans, to storing data in a secure computing environment, to interacting with research volunteers over the phone—MVP staff had skills to assist in a national emergency.
Jennifer Deen, Associate Director of Cohort and Public Relations said, "Across MVP, and VA as a whole, staff pitched in to be part of a worldwide effort to advance the greater good. Everyone was focused on the same mission: get vaccine trials done safely and efficiently and help get critical COVID research done."
MVP helped VA's Office of Research and Development (ORD) to quickly build and launch an online, public-facing volunteer registry for people who wanted to participate in clinical trials of COVID-19 vaccines.
Once volunteers signed up, MVP's Information Center (IC) became essential to the effort. Annie Franklin, MVP Information Center Supervisor, said, "IC staff have expertise talking to Veterans—and they turned that expertise to serve a new mission."
More than 58,000 people signed up on the COVID-19 volunteer registry, and over 1,000 Veterans were contacted by VA vaccine study teams. And some MVP Veteran partners—already part of helping future generations—participated in vaccine trials.
Deen said, "Once again, Veterans answered our requests for help—and they made this happen. Among what we learned over the past year is that partnership is not a one-way, or even a two-way street. Partnership goes in all directions—from Veterans to MVP staff to VA as a whole—everyone pitched in to help each other."
Read more MVP Insider articles here.